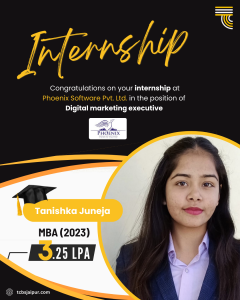 TC Business School (TCBS) is one of the best colleges in Jaipur, Rajasthan, offering quality education in management and computer applications. Established in 2001, TCBS has been helping talented students achieve their dreams and goals with its innovative curriculum, experienced faculty, and excellent placement record. TCBS offers courses such as BBA, BCA, and MBA with dual specialization and industry-oriented certifications. TCBS provides a conducive learning environment with world-class infrastructure, a digital library, computer labs, and sports facilities.
One of the main attractions of TCBS is its strong alum network, which consists of successful professionals working in various sectors and domains. TCBS alums are making their mark in the corporate world and contributing to society with their social initiatives and entrepreneurial ventures. TCBS takes pride in its alums and their achievements and regularly organizes alums meets, seminars, and workshops to facilitate interaction and knowledge sharing among current and former students.
One such shining example of a TCBS alumnus is Tanishka Juneja, who graduated from the MBA program in 2023 with a CGPA of 8.5. Tanishka was always passionate about writing and digital marketing and pursued her interests along with her academics. She started her blog during college and wrote about various topics such as fashion, lifestyle, travel, and education. She also participated in various digital marketing competitions and events and won several accolades for her skills and creativity.
Tanishka's hard work and talent paid off when she got selected by Phoenix Advanced Softwares Pvt. Ltd., a leading digital marketing company based in Jaipur, as a digital marketing executive. Phoenix is a tech-savvy company that offers a complete range of advertising services covering everything from ad-serving technologies to inventories for promotions delivery. Phoenix has more than 6,000 reputed clients across various industries and domains.
As a digital marketing executive, Tanishka executes the company's digital marketing campaigns across various platforms such as social media, websites, emails, etc. She is involved throughout the campaign's creativity, planning, implementation, measurement, and optimization process. She also collaborates with the IT department and the digital partners to ensure the smooth functioning of the campaigns. Tanishka enjoys her job as it allows her to use her creativity and analytical skills to create effective digital marketing strategies and techniques.
Tanishka is grateful to TCBS for allowing her to pursue her passion and career goals. She credits TCBS for equipping her with the knowledge, skills, and confidence to excel in the digital marketing field. She also appreciates the guidance and support of her faculty members and mentors, who helped her throughout her academic journey. Tanishka inspires many aspiring digital marketers who want to make a difference online.
TCBS congratulates Tanishka Juneja on her success and wishes her all the best in her future endeavours. TCBS also invites all prospective students who want to join the TCBS family and become a part of its legacy of excellence. To learn more about TCBS and its courses, visit its website or call its phone number. You can also follow its Facebook page or Instagram account for regular updates and news.
I hope you liked this blog post. If you have any feedback or suggestions, please let me know. Thank you for your request. 😊